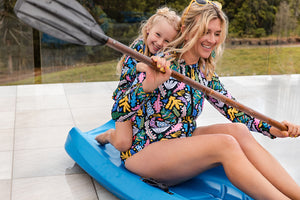 Bright & Colourful Sunsmart Eco-Swimwear
From rad rashies that shield you from UV rays in style to surfsuits that hug your curves like a high-five from the ocean itself, we've got your sunsmart beach game covered!
At Olasol, we don't just sell swimwear—we're in the business of unleashing your inner beach boss. So, whether you're catching waves, building sandcastles, or just soaking up that vitamin sea, do it with a splash of Olasol flair!
Sustainable swimwear for lovers of bright and bold handmade fashion. Recycled swim fabrics printed in Australia and hand made to order on the Sunshine Coast, Queensland.
But wait, there's more! Dive into our swim leggings—whether you're diving deep or just lounging seaside, these leggings are sleek, comfy, and ready to make waves in every way. And for the little beach bums? We've got 'em covered with our kids' collection, because why should adults have all the sandy fun?
Ethical fashion made-to-order here in my studio on Gubbi Gubbi country, Sunshine Coast, Australia. Unique bright and bold designs printed in Australia on regenerated nylon (from plastic waste diverted from landfill and discarded fishing nets) and lycra for long sleeved swimwear, organic cotton for accessories wide brimmed bucket hats and recycled fabrics for Australian made sand free eco-towels.

Slow and sustainable fashion, with every effort made to reduce waste and the footprint made on the planet at all stages of production.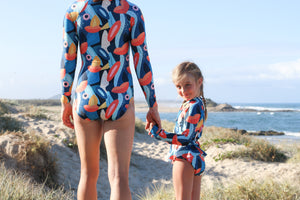 Fun in the Sun
We've got a love/hate relationship with the Australian sun. We love fun in the sun, we love spending long summer days at the beach, in the pool - anywhere in the great outdoors. But it also comes with increased UV exposure which increases skin cancer risk as well as eye damage and premature ageing. Olasol helps you to cover up from the sun with UV protective swimwear while still standing out from the crowd in fun, bright prints for adults and kids!
Shop now
About Me
Olasol is about making bright, bold outfits for fun in the sun.
My passion for sunshine, colour, making, and the beach all meet here.
Living on the Sunshine Coast I've become increasingly aware of how important it is to protect yourself from the sun every time you go out, and seriously it's not just kids who hate putting on sunscreen. Covering up became a much better way for us to avoid excessive sun exposure.
But not with boring clothes, and not the kind of fast fashion that is increasingly having an impact on our planet. I have found amazing, unique prints in gorgeous bright colours, using natural organic or recycled synthetic fibres wherever possible and all hand-made to order right here in Australian adhering to the principles of slow and sustainable fashion.
As such please allow 2 to 4 weeks for this process with every effort made to reduce waste and the footprint made on the planet. Slow and sustainable fashion.
So enjoy your made to order, handmade style out there!
Amy x
Oh, and I love custom orders, so contact me with anything you need.